Highest Quality Japanese Koi Fish (Nishikigoi) for Sale from Niigata, Japan
  Sign Up For Our Newsletter to Receive 10% Off Koi Food Coupon
Stay up-to-date with current auctions, promotions, new blog posts and updates from the Kodama Koi Farm team.

"*" indicates required fields
How to Get Started and Buy Live Koi Online at Kodama Koi Farm
Sign up for an account on our website to view all koi for sale, koi prices, and more koi details. Read our welcome guide and FAQs to learn more about how our new website operates. You can buy koi fish online or on the phone. Please call us Monday – Friday at: +1 (833) Koi Love (1-833-564-5683); When you cannot reach us by phone, please contact us via EMAIL at: info@kodamakoifarm.com with any questions. Sign up for wholesale here.
We sell individual koi fish and packs of koi. Each koi is genuinely from Japan and raised with an exceptional amount of care on our koi farm. Take a look at our rare koi and see if one of these top koi fish will be perfect for your pond. Give us a call, shop online, or request a koi.
Current Japanese Koi Fish for Sale and Promotions
We proudly present new koi for sale online from our Hawaii farm each week. These are some of the most recent koi fish for sale online. You are welcome to call or email to see about the other kois for sale that may not be listed yet as online koi for sale but are still in our inventory. Request a koi.
Kikusui Special Auction Begins October 3rd at 4pm HST!
Kikusui Special Auction Is Now Live! Kikusui is the name given to the doitsu (scaleless) version of a Hariwake with an orange pattern. Generally, only Doitsu Hariwake with a deep, vibrant orange color are referred to by the name Kikusui. If you want to have a good quality Kikusui in your pond don't wait bid today!
Tamasaba Special Auction Part 2 Ends October 6th at 3pm HST!
Tamasaba goldfish are a rare ornamental goldfish from Japan and this batch is from Kaneko Koi Farm. If you own koi already and want to add a new ornamental fish species easily, try a couple Tamasaba goldfishes. Bid on this auction today and enjoy watching your goldfish grow!
Don't Wait, Special Auction Ends October 4th at 3pm HST!
Mr. Kichigoro Akiyama, a Koi breeder, observed the strong Doitsu and tried to cross it with Asagi, a variety representing Japanese koi. There are a wide selection of Doitsu koi available in this auction. If you want to have a good quality Doitsu in your pond don't wait bid today!
Koi Of The Week This Week!
This week I will be showcasing a rare find. A Tancho Ginrin Ochibashigure from Kanno Koi Farm. You may not want to miss out on this beautiful living jewel from a well known breeder. She is highly recommended! Learn more about this koi by clicking the button below!
Kodama Koi Packs Are Here!
It is our pleasure to introduce the Build a Pack and Kodama's Choice Pack for Small Koi, each with low or even free shipping options! Buy our small koi mixes to easily and quickly purchase groups of koi.
Choice Pack A which will include 5 Koi, 10 Koi, or 20 Koi in a box
Choice Pack B which will also include 5 koi, 10 Koi, or 20 koi in a box
Choice Pack C which will also include 5 koi, 10 Koi, or 20 koi in a box
Buy koi pond supplies and koi food online to create the most beautiful, vibrant, and happy fish for your pond. We pride ourselves on the selections of products in this website and created many ourselves! The pond products we've chosen have been used to raise our over 185+ koi champions and 50+ years of research. We look forward to helping you choose the best pond supplies for your environment and specialize in products for high quality koi.
Shinsuke was established to develop products that improve the environment where our Japanese Nishikigoi can be preserved. We are now offering three new products: Bacto Power, Bio Sponge, and Mineral Plus. Learn more about these products and how they can help keep your koi healthy today by clicking the button below.
Mr. Kodama Koi Food – Now Available in Small and Large Packs!
Our mission is to help you grow your Koi healthy and enhance the color at the same time, and by doing so we mixed Mr. Kodama Koi Food All Season and Mr. Kodama Koi Food Color Up by 50% each and have created the Mr. Kodama 50/50 Koi Food Package, that is sold as an easy way to buy each of these foods in one pack.
For over 50 years, Mamoru Kodama has been raising Koi in Japan (the home of Nishikigoi). Here he has produced many Koi champions at Koi shows, uses only the freshest, high-quality ingredients in his Koi food. Packed with high-quality natural ingredients and protein, these are the go-to koi foods that raise koi champions.
Learn more about the history of Mr. Kodama Koi Food by clicking the button below
Search our Japanese Koi Fish for Sale by Auction and Fixed Price
We are proud to offer a wide range of Japanese Koi for sale online with each having it's own unique beauty that will add a gorgeous new look to your pond. Good luck finding the Japanese Koi of your dreams!
Instructions – Use this search form to filter through our live koi for sale. They do not last long on our website and if you see one that catches your eye then we strongly encourage you to make the purchase online. You can also try filling out our request a koi form where you can let us know what type of live koi for sale you are searching for. We import champion koi, young baby koi, and many other rare koi fish that can be show quality koi for making your pond truly show.
Jumbo Koi and Champion Koi are our Specialty!
Every koi for sale is from Niigata, Japan and goes through a rigorous quarantining process for safety. Our goal is to make koi from Kodama be your top pond fish and strive to keep all of your fish happy and thriving.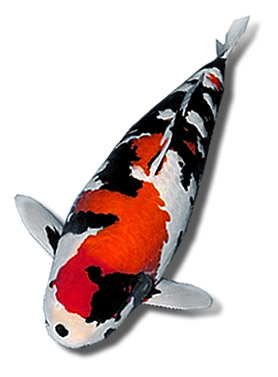 High Quality Koi Fish for Sale from Japan
– Small, Large, Jumbo Koi All Available at Great Prices –
We find the best koi from Japan and present them to you for beautifying your pond or water garden with living jewels. On our site you will find a range of koi fish for sale from Kohaku to Showa and more! These pond fish are sold at fixed prices and are top of the line Japanese Koi Fish vs a normal pond fish store.
We take great pride in our imported Japanese Koi for sale.
Auction Koi For Sale
These beautiful koi fish for sale can be purchased at auction prices and will look great with other pond fish purchased online or in a pond store. Check in often as we are consistently adding new koi for sale on our website. Enjoy the hunt for that perfect Japanese koi fish to add to your pond.
Our Family Brings Peace To The World One Koi At A Time…
"What we all have in common here is that koi give us peaceful joy within our fast-paced and often busy lives, which is the sad reality of modern society in our world. We want to bring peace and tranquility to the United States through koi.
All koi enthusiasts enjoy koi in their own different ways and now it is time for you to find yours. Who would have thought with my enjoyment, I would have the privilege to be a part of more than a half million koi's lives? I have my father to thank for that."
We can help you find a Specific Japanese Koi fish for sale!
If you can't find the koi for sale on our website, we will help you find the right type of koi classification to add to your collection. Please fill out this request form to tell us the type of Japanese Koi that you are interested to purchase in the future. Selecting koi for sale is a journey, some are found quickly, others take a long time.
You don't need to worry about finding and buying all the different types of pond fish you're looking for – we've got you covered. We are one of the leading pond products and fish suppliers worldwide. As a result, we have been able to establish a vast network of connections with different fish breeders all around the world. Most of these breeders are champions that specialize in specific kinds of pond fish. This makes your purchase easier and ensures that you get the best pond fish from a well-known breeder.
Please use this koi request form to tell us more about what you are looking for.
Japanese Koi Blog & Koi Farm News
Learn what's new at the farm, quarantining best practices, and educational information for raising Japanese Koi Fish.
Enjoy This Customer Story About Elliot, A New Koi HobbyistElliot V: "I'm a new hobbyist I just started in the hobby during covid like everybody. We were stuck in our house and started digging a koi pond and it's crazy how the world and the universe just shows you...
read more
Large Koi, Rare Koi, Butterfly Koi, Grand Champion Koi, Jumbo Koi, Baby Koi, & Many other Live Koi Fish For Sale Online
No matter what type of koi you are searching for, we can help find jumbo koi, big grand champion koi, or just young koi / baby koi waiting for a new home. We sell all varieties of koi from Japan, from big koi to small koi to butterfly koi for sale. If you want a high quality koi fish, than we are the right place for you.
Jumbo Koi for Sale
This large & jumbo koi for sale is over 3ft long! We love jumbo koi and are ready to find your match.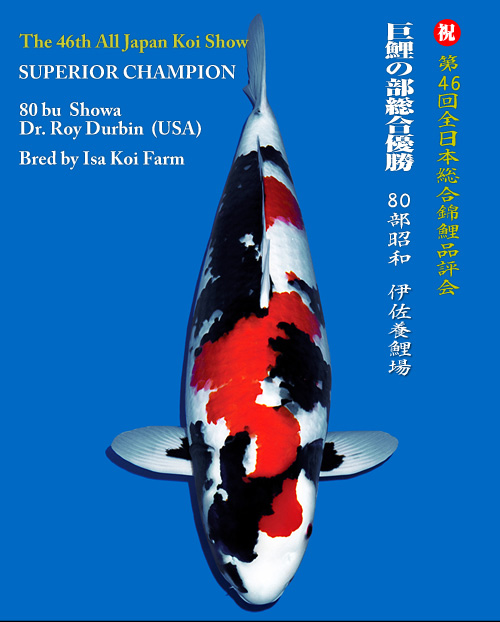 Champion Koi for Sale
Champion koi for sale are always rare koi to find.
Butterfly Koi for Sale
Our butterfly koi for sale are direct from Japan.
Grand Champion Koi For Sale & Jumbo Koi Available Online – Ask About Koi Prices!
We specialize in sourcing top koi for sale from Japan in small and jumbo koi sizes and take great pride in the kois for sale on our website. Let us know what you are looking for and we can find a live koi fish for sale to meet your needs. Search our website for available kois for sale or request a koi. Happy Ponding!