Types of Koi Varieties
There are over a 100 different types of koi (Nishikigoi).
To find the proper koi classification you will need to look at their colors, patterns, and body confirmation. Each type of koi fish variety has it's own specific details for identification and can be described based off another classification of Japanese Koi type.
For example, a Showa Sanke is a koi with calligraphic Sumi pattern on Kohaku and the Goshiki was created by breeding Asagi with Kohaku. View popular koi varieties below and click to learn about each type of koi.
Types of Koi Fish Varieties Guide (PDF)
Download FREE Koi Variety Guide / Printable Poster:
Enter email to join our newsletter and receive koi variety guide printable file.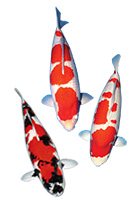 VIDEO - Top 9 Groups of Koi Types
Top Groups of Koi Types
When there are over 100 varieties in Koi, it is not easy to learn all of them one by one. It is easier to study the groups before you go into details of each variety. Here are the 9 main groups of Koi.
Gosanke – Gosanke means Kohaku, Sanke and Showa. Gosanke in Japanese means the 3 most popular things within any group. Kohaku, Sanke and Showa are definitely the focal varieties of Koi. you can tell from the fact that grand champions of Koi shows always come from Gosanke group
Utsurimono – This includes Shiro Utsuri, Hi Utsuri, Ki Utsuri and even Showa. These are basically black based Koi.
Mujimono – The group of Mujimono or in short Muji means plain Koi. Koi such as Chagoi and Soragoi fall into this category.
Hikarimono – Hikarimono means metallic Koi. Please be careful it is different from Ginrin. Hikarimono can be divided into 3 sub groups.

4-a One is Hikari-moyo. It is a metallic Koi with patterns such as Kujyaku.
4-b The next one is Hikari Utsuri. It is a metallic version of Utsurimono. Kin Ki Utsuri, Gin Shiro Utsuri, Kin Showa fall into this group.
4-c The last one is Hikari Muji. We learned Muji is a plain Koi. So Hikari Muji is metallic version of Mujimono. Ogon and Platinum are good examples.

Kawarimono – Kawarimono in Japanese means oddballs. So in Koi, Kawarimono basically includes most of the varieties that do not blog to the other groups.
Ginrin – Ginrin means silver scales. So Ginrin varieties are Koi that have glittering scales like diamond. Please be careful that ginrin is different from Hikarimono or metallic Koi.
Doitsu – Doitsu Koi are scaleless Koi. It was developed by crossing scaleless food carp with Japanese Koi over 100 years ago. Doitsu means Germany in Japanese. It is because these scaleless carp were originally imported from Germany.
Hirenaga / Butterfly – Hirenaga are the ones with long fins. They are also called butterfly Koi. It is not so popular in Japan, but it is very popular in Europe and in the US.
Tancho – Tancho is any variety of Koi whose only pattern is a round spot on its head. The marking reminds us of Japanese flag. This is a very popular group. Please remember if you see other markings on the rest of the Koi body, the Koi is not called Tancho.
Types of Koi Varieties Common in Koi Shows
Most Popular Types of Koi for Shows
Kohaku
Taisho Sanke
Showa
Utsuri mono
Bekko
Asagi
Shusui
Koromo
Goshiki
Hikari Muji
Hikari Moyo
Hikari Utsuri
Tancho
Kin Ginrin
Doitsu
Kawari mono
How to Identify Different Koi Colors, Species, Names, Patterns
View Koi Colors, Species, Names, Patterns
Download our printable guide to see the top koi fish types, so you can easily reference and learn the different koi varieties. There are many koi species that may look similar, but are actually very different types of koi fish. The koi breeds are most commonly identified by their patterns, colors, and markings. Use our koi variety chart to better understand and identify the koi colours. You can also visit our website for koi the types and prices that fit your budget.
Top Japanese Koi Variety Identification Video
Watch Taro Kodama, explain the differences in koi varieties by their markings, colors, patterns, and history. View real examples of koi colors from Kohaku, Showa, and Taisho Sanke using actual koi images from our koi for sale. Get ready to learn about koi variety identification basics and why these types of koi are classified as Gosanke.
View All Koi Varieties Available
We have only the best Japanese Koi available. Take look through our inventory to choose the one that catches your eye!
Every koi has a special characteristic and only you know which is best for your pond.