Types of Koi Varieties
There are over a 100 different types of koi (Nishikigoi).
To find the proper koi classification you will need to look at their colors, patterns, and body confirmation. Each type of koi fish variety has it's own specific details for identification and can be described based off another classification of Japanese Koi type.
For example, a Showa Sanke is a koi with calligraphic Sumi pattern on Kohaku and the Goshiki was created by breeding Asagi with Kohaku. View popular koi varieties below and click to learn about each type of koi.
Download Top Koi Varieties Printable Guide (PDF)
Types of Koi Fish Varieties Guide
Download FREE Koi Variety Guide / Poster:
Enter email to join our newsletter and receive koi variety guide printable file.
Top Japanese Koi Variety Identification Video
Types of Koi Varieties Common in Koi Shows
Most Popular Types of Koi for Shows
Kohaku
Taisho Sanke
Showa
Utsuri mono
Bekko
Asagi
Shusui
Koromo
Goshiki
Hikari Muji
Hikari Moyo
Hikari Utsuri
Tancho
Kin Ginrin
Doitsu
Kawari mono
How to Identify Different Koi Colors, Species, Names, Patterns
View Koi Colors, Species, Names, Patterns
Download our printable guide to see the top koi fish types, so you can easily reference and learn the different koi varieties. There are many koi species that may look similar, but are actually very different types of koi fish. The koi breeds are most commonly identified by their patterns, colors, and markings. Use our koi variety chart to better understand and identify the koi colours. You can also visit our website for koi the types and prices that fit your budget.
Top Japanese Koi Variety Identification Video
Watch Taro Kodama, explain the differences in koi varieties by their markings, colors, patterns, and history. View real examples of koi colors from Kohaku, Showa, and Taisho Sanke using actual koi images from our koi for sale. Get ready to learn about koi variety identification basics and why these types of koi are classified as Gosanke.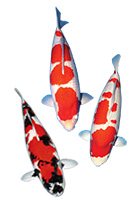 Send us a request for the koi variety and specifics you are searching for:
Fill out this form to tell us the price, variety, breeder, size, and even send pictures so we can help find the koi of your dreams!
View All Koi Varieties Available
We have only the best Japanese Koi available. Take look through our inventory to choose the one that catches your eye!
Every koi has a special characteristic and only you know which is best for your pond.