Shiro Utsuri
Shiro Utsuri koi may seem more basic with only black and white skin, however, the balance creates a beautiful effect that draws your eye and makes this koi stand out. This jet black koi should have a dazzling white pattern wrapped around its body.
History of Shiro Utsuri
Shiro Utsuri has a long history, just like the Asagi variety. Since 1925 when Mr. Kazuo Minemura succeeded in establishing Shiro Utsuri as a variety, it took 65 years and many breeders efforts until the koi was perfected in 1991.Then Shiro Utsuri started to become popular when koi shows started to form.
In Japan, koi shows usually are held indoors. Therefore, the sharp contrast of Shiro Utsuri's white and black pattern made the koi look very attractive. That made the Shiro Utsuri variety very popular next to the Gosanke varieties. Shiro Utsuri, nevertheless had a large disadvantage. It doesn't grow as large as the other koi. Therefore, it was very hard to win the awards at koi shows. Even if it became beautiful, its disadvantage was its size.
For a long time, Shiro Utsuri had never won a championship title. However, there is a breeder who was able to produce a large and beautiful Shiro Utsuri. That breeder is the Omosako koi farm. Omosako koi farm became the first breeder ever to produce a Shiro Utsuri over 40 inches in size.
When one half of the head is white and the other half is black the design is called Hachiware, or Menware which means the same thing. This is an ideal face pattern for Shiro Utsuri!
We have Shiro Utsuri koi available to buy if shown below the search field. If not, please contact us with what you are looking for and we will help find the right koi for you.
Search All Our Available Koi
Showing all 13 results
Can't find the koi you're looking for? Click here to use our koi request form
Request the Koi of Your Dreams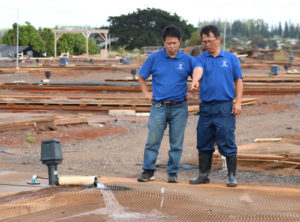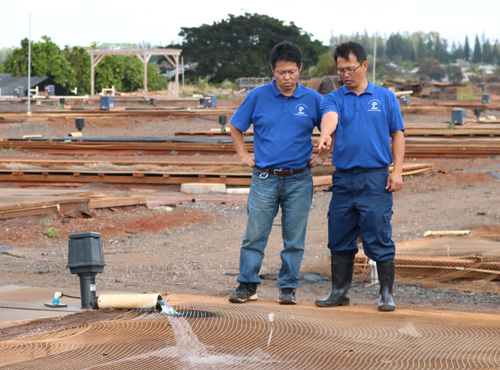 What can we help you find?
Let us know more about what you are searching for and we will look into our inventory to help you find the perfect koi. Tell us a description, variety, size range, and price range you are searching for.
We have a large stock of koi that are not listed on our website and we can also look when we are visiting Niigata, Japan. Complete this form and we will follow up with you directly.
Koi Request Form