Koi Information & Articles from our Experts at the Farm
Promoting Healthy Koi Awareness!
Quarantine & Diagnosis Articles
It's really sad seeing your beloved koi sick or suffering from parasites. But thankfully there are steps you can do to prevent disease and treat the koi. Have a look at the blog posts below:
Koi Food & Feeding Articles
As the saying goes, "You are what you eat". And this holds true for koi, too. Learn how to feed them for growth and color and how to change their feed as the seasons change.
Quality koi food is important not only for fish health but for maintaining excellent water quality as well. It is important to invest in high-grade koi food because they consist of essential nutrients and vitamins needed to keep koi healthy.
Correct feeding and food are the key ingredient to improve your Koi's health, happiness, and longevity. Learn how we at Kodama Koi Farm have learned and incorporated many Japanese koi breeding best practices into our farm in order to feed a proper diet for the most beautiful living jewels.
Pond Environment Biology Articles
The pond environment directly impacts your koi's health. Knowing how friendly bacteria, oxygen levels, filtration, etc. affect them will help them live long, resist disease, and thrive.
We wrote this blog post to give you a foundation of the nitrogen cycle in your pond so you can maintain healthy water for your Koi. We will also explain our best product recommendation for keeping your water healthy.
A filter is a critical part of a Koi pond. Why is it so important? Because for a koi, a pond without a filter is like living in a room with no toilet. Table of Contents: Why do you need a filter for your Koi pond? Mechanical filtration vs. biological filtration…
BioClean returns koi pond filtration to the basics. It's simple gravity-flow design eliminates all moving parts from the filter, therefore eliminating all common points of failure, such as those found in pressurized filters. This means the filter will last for the lifetime…
In this blog, I'll explain why the top Japanese dealers and hobbyists use KoiNendo (formerly known as REFRESH) clay as a mineral supplement to increase the health and shine of their koi fish. This koi clay from Niigata, Japan is so…
Aquaponics is sustainable, healthy, and a family fun activity. When compared to traditional farming, aquaponics requires 90% less water. It is an incredibly sustainable method to produce food at home with little cost.
Preparation & Treatments Articles
Every koi goes through various transitions like entering different seasons, breeding, moving to new ponds, etc. These changes can leave your koi vulnerable; but there are steps you can do to make the process safer and successful.
Use these tips to make a big difference in your Koi's exhaustion and stress levels when bringing your koi to a show, moving them to a new pond, or any other time you have to relocate your pond fish.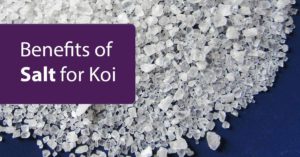 When I first started working for my Koi Master father more than 20 years ago, one of the things that surprised me, was that we used salt so much. I mean A LOT of salt…
Have the healthiest pond for koi and learn proper salt usage.
Learn our recommended tips and tools for Koi pond owners to follow for spring pond opening. If you do it wrong, your Koi can get sick. If you do it right, they will thank you; and you will enjoy the rest of the Koi season with peace of mind. We have over 50+ years caring for high quality Japanese koi…
Summer is over. Fall is here. And winter pond care is quickly on your mind with snow in the forecast. For our beloved Koi, what should we do?  Fall (as well as spring) is a vulnerable time for Koi because water temperatures fluctuate and start dropping…
Use this guide to properly introduce new koi fish into your pond using the proper quarantining, pond care, and water quality control methods… Adding new koi to your pond is exciting and fun but should be approached with caution…