Koi Of The Week
Welcome to Koi of the Week!
Not only can you purchase the Koi of the Week but we also highlight other high quality koi from the same breeder or of the same variety.
Lastly you'll also find that on this page you can sign up for our email list, which would allow you to receive emails from us regarding current promotions, company news, and of course Koi of the Week emails every Saturday.
Koi Of The Week: Ginrin Showa
 #u0715t001
An eyestopping beauty - Ginrin Showa
The other day, I was walking by one of hundreds of ponds at my farm. 
And one beautiful Koi jumped right into my eyes. 
It is the Koi of this week. 
I have walked by the ponds many times, but until that moment, I did not see her. 
Probably her Sumi was not ready yet.
You can see her Sumi are almost finished. 
Once a little more Sumi develops to form the Menware (face dividing) pattern, her Sumi pattern will complete. 
The face will be very handsome. 
Sumi on the left shoulder corresponds with the larger dynamic Sumi on the body. 
It stops perfectly on the tail. 
The Odome (the tail stop) and Motoguro (Sumi on the pectoral fins) complete the powerful presence of the Ginrin Showa. 
Her Shiroji, on the other hand, expresses its bright look with Ginrin (diamond) scales. 
Hi plates on the head, shoulder and the back, floating like islands, add an elegant look to her.
The beautiful harmony of Hi, Sumi, Shiroji and Ginrin is beyond description. 
She is such an exquisite Koi. 
Because she is from Shinoda Koi Farm;
(The best Ginrin Showa breeders in the world),
The bloodline is the best you can ask for, and assures future potential. 
She will definitely become an eyestopper for your pond. 
Please contact Taro for any questions. 
Ginrin Showa - koi #u0715t001
$3,000.00
Sex: Female
Born in: 2020
Size: 17.72 inch
Here are more

High Quality Shinoda Koi
Previous Koi Of The Week Available!
Search All Our Available Koi
Showing all 9 results
Can't find the koi you're looking for? Click here to use our koi request form
Request the Koi of Your Dreams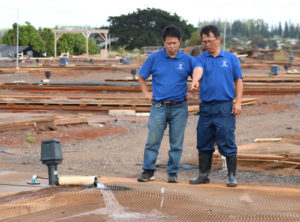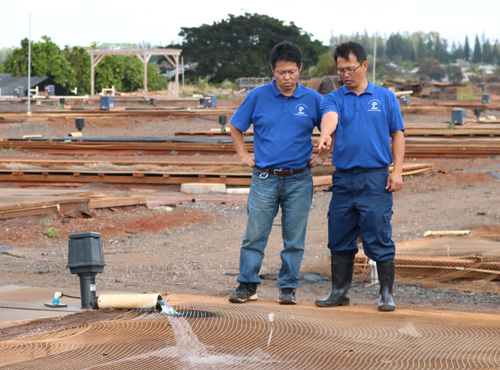 What can we help you find?
Let us know more about what you are searching for and we will look into our inventory to help you find the perfect koi. Tell us a description, variety, size range, and price range you are searching for.
We have a large stock of koi that are not listed on our website and we can also look when we are visiting Niigata, Japan. Complete this form and we will follow up with you directly.
Koi Request Form