Koi Of The Week
Welcome to Koi of the Week!
Not only can you purchase the Koi of the Week but we also highlight other high quality koi from the same breeder or of the same variety.
Lastly you'll also find that on this page you can sign up for our email list, which would allow you to receive emails from us regarding current promotions, company news, and of course Koi of the Week emails every Saturday.
#
u0406n011
Jumbo Tosai + Dainichi SuperMonster + Great pattern = Great Tategoi
Koi of this week is my favorite Jumbo Tosai Showa from Dainichi Koi Farm.
I found this Tategoi at one of Dainichi's auction early Spring. This Koi looks so unbalanced right now. All the Sumi up on the body are on the left side of the body. Even larger Hi plate is on the left side.
On the other hand, the right side of its body has smaller Hi plates here and there. Sumi are not even up yet. 
Though its design on its head is excellent, I must say the body design may not look good right now. 
However, to me, the vacancy looks so promising.
When all the hiding sumi stripes emerge on that right side, just like the ones on the left side, and connect to them, it will complete such a handsome show quality Showa. 
The sumi development will create a nice Shiroji (white ground) pattern on its shoulder and its Odome (tail stop).
If Sumi develops on its head, that will enhance her beauty even more.
Being 13" at this age and coming from the Dainichi SuperMonster line are other convincing reasons to believe in her potential.
Please enjoy her growing and fulfilling its potential in your pond
Contact Taro at sales@kodamakoi.com by 5/31 for a special offer.
Showa – koi #u0406n011
$1,500.00
Sex: Female
Born in: 2021
Size: 13.39 inch
Here are more

High Quality Dainichi Koi
Previous Koi Of The Week Available!
Search All Our Available Koi
Showing all 13 results
Can't find the koi you're looking for? Click here to use our koi request form
Request the Koi of Your Dreams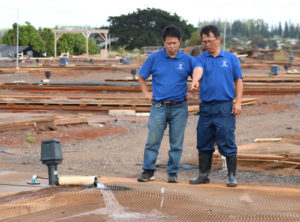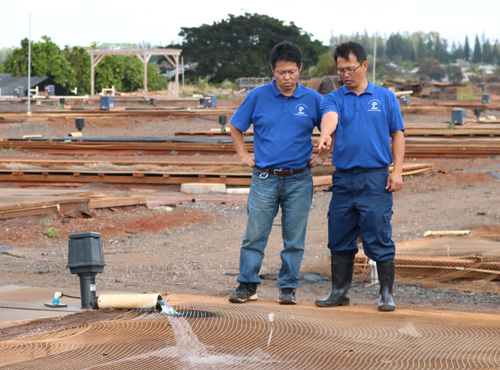 What can we help you find?
Let us know more about what you are searching for and we will look into our inventory to help you find the perfect koi. Tell us a description, variety, size range, and price range you are searching for.
We have a large stock of koi that are not listed on our website and we can also look when we are visiting Niigata, Japan. Complete this form and we will follow up with you directly.
Koi Request Form