We began our journey in 1967 when Mamoru Kodama founded Miyoshiike Co., Ltd. in Japan and now decades later our business serves koi lovers around the world.
Kodama Koi Farm is the largest importer and distributor of high quality Japanese Nishikigoi in the United States. For our family, producing the highest quality and even champion Nishikigoi is not a business… it's an art, a science, and a lifestyle. We are honored to share our lineage of knowledge as we serve koi lovers worldwide.
What does Nishikigoi mean?
Nishikigoi (nee-shee-kee-goy) is a blend of two Japanese words. Nishiki translates as brocade, referring to the rich silk fabric with beautiful patterns. In Japan specifically, it is the traditional fabric of the Kimono. The second part "koi" translates as carp, referring to the plain colored fish that is a common food source. The word Nishikigoi is used because the beautiful coloring on these creatures is similar to the patterning on the textile.
To us Nishikigoi, or Japanese Koi, are living creatures that we consider art.
Much like a snowflake, each of these special creatures possess unique and elegant markings. Nishikigoi represent living beauty… their graceful movement and unique look leave a deep and pleasing impression, bringing a peaceful joy to many.
Raised with care, love, and the highest quality food.
We are dedicated to ensuring continuity in the tradition of raising champion Japanese Nishikigoi.
Our koi are raised with care and love. Fed the highest quality koi food in similar conditions to the Niigata region. Niigata is where selective breeding of carp began when it was noticed that in adapting to the harsh winters of the region, some were born with beautiful colors colors such as red, yellow, and even patterns.
Our Nishikigoi have excellent color with the type of unique features that are sure to add beautiful new patterns to your pond.
Learn More About Kodama Koi Farm
Enjoy these video recordings from Koi Talk with Kodama Koi Farm as we explain our process, history, and koi quality.
How to Use Kodamakoifarm.com
History of Kodama Koi Farm
Mr. Kodama Koi Food - All Season
New Packaging, Same Great Formula of Koi Food!
Our All Season/Wheat Germ is formulated for maximum koi growth and health, and its digestibility will allow you to feed your koi all year round. Mr. Kodama Koi Food - All Season is available in the convenient 11lb bag size with (M) and (L) pellet size and (M) Sinking option.
The recipe for All Season was developed by Mamoru Kodama, Grand Champion & founder of Kodama Koi Farm as the same food we feed on the farm. It's a great choice for healthy koi.
"It's Simple.
Better Quality Koi Food Enhances Beauty and Health of Your Pond."
- Mr. Kodama
Life on the Hawaii Koi Farm
We began our journey in 1967 when Mamoru Kodama founded Miyoshiike Co., Ltd. in Japan.
Now decades later our business serves koi lovers around the world from Hawaii.
Mamoru Kodama
Founder & Chairman of Miyoshike Co., Ltd.
Mamoru Kodama has dedicated his life to the study, care and cultivation of the highest quality Nishikigoi.
Long respected as an expert in the industry, he is recognized as one of the top "eyes" when it comes to the nuance of identifying high quality Nishikigoi. His devotion is fueled by the smiles, happiness, and peace he sees Nishikigoi bring to people, his mission has been to continue bringing this positivity worldwide.
To pass on his knowledge and the traditions of his craft, he became an Koi educator.
Mamoru has travelled the world leading Koi seminars. He's also a respected authored, including two texts which are considered the bible for Koi loves, Kokugyo I and II.
His writing was inspired while teaching in the states, when he observed information had been misinterpreted and passed on by American dealers. As a Japanese Koi dealer, her felt obligated to provide the type of accurate instruction that would ensure continuation of the traditional legacy he learned and valued.
Mamoru Kodama
Founder & Chairman of Miyoshike Co., Ltd.
Mamoru's Story Continued (click to open)
Mamoru's passion for Koi began when he started his aquaculture company. He quickly became drawn to the beauty and uniqueness of Nishikigoi. He loved how these Koi were the only product he knew where value was determined by its beauty not its weight.
That's when he began his many treks to visit the breeders in Niigata, which he calles the cradle of Nishikigoi. His trips so frequent over the years he's established deep relationships that are an unparalleled company asset.
A true craftsman he naturally expanded from dealer to breeder…
As time passed his success, passion, and intrigue grew. After winning 5 grand champions at all Japan Nishikigoi shows, his desire to take the work to the next level led him to the new challenge of breeding.
A purist at heart, he believed tropical weather was better for breeding and raising Koi so he said yes to an opportunity in Taiwan which allowed him to breed and teach with great success. During this ten-year span he deepened his insight and sharpened his expert eye.
Currently, Kodama Koi Farm is breeding and dealing Nishikigoi internationally. It's a family business that respectfully maintains the core values and lineage set forth by Mamoru Kodama, a true Nishikigoi Master Breeder and pioneer who lead the way toward bringing accurate information to inform the growing interest of Koi breeders and hobbyists.
His legacy set the stage to uphold Japanese Nishikigoi breeding traditions worldwide.
Mamoru Kodama is a man with passion and integrity. He loves a challenge and always strives to serve his customers by increasing his bar of excellence. This consistency is driven by a true love for the beauty and joy of the Nishikigoi…
Mamoru Kodama Career Overview
1962 – Researcher at Freshwater Fisheries Experimental Station of Aichi prefecture, Japan (5 years).
1967 – Founded Miyoshiike, a specialized dealer of Niigata Nishikigoi.
1989 – Opened a branch store in Chiba, Japan.
1993 – Opened a breeding farm in Okinawa, Japan.
1998 – Opened a online store, Koimall.com.
2000 – Launched Japan Koi Online, a distribution center in California and assigned his son, Taro Kodama as president. This branch of his legacy has introduced more than 200,000 Niigata Koi individually to enthusiast throughout the USA which would not have been possible without the carefully cultivated network of breeders he established in Niigata over the course of 40 years.
2001 – Began writing monthly articles for KOI USA magazine introducing the Niigata Koi breeders who are his friends and colleagues.
2002 – Kokugyo Vol. 1 published, the first Koi book written by a Koi dealer in English.
2004 – Kokugyo Vol. 2 – Nishikigoi Development published, which earned him high commendations from overseas dealers and Koi lovers as Nishikigoi authority.
2004 – Established Save Nishikigoi Network with colleagues in response to impact to Niigata breeders after magnitude 6.8 earthquake. This group provided support and fundraising for those impacted by earthquake damage.
2004 – International Nishikigoi Promotion Center (INPC) launched. Save Nishikigoi Network evolved into a non-profit with the purpose of promoting Nishikigoi worldwide. Mamoru served as the first chairman.
1991 – Began breeding Koi and teaching others to breed in Taiwan.
2006 – Kodama Koi Farm launched in Hawaii. The farm moved from California to Hawaii to provide increased quality to customers being closer to Japan.
2012 – Opened Kodama Koi Garden in NJ.
2013 – Opened Kodama Koi Garden in NY.
2015 – Opened Kodama Koi Garden in FL.
2018 – Kokugyo Vol. 3 published.
Taro Kodama
President of Kodama Koi Farm
Taro was raised with his father Mamuro Kodama instilling a love for the tradition of enjoying and raising Japanese Nishikigoi. He was taught this craft with the intention of bringing happiness and beauty to the world.
His father's passion became his passion. Now he leads the way ensuring the highest quality Nishikigoi, and all required to care for them, is available to professionals and hobbyists around the world.
Taro and his team approach each day centered on his father's belief that when focusing on cultivating the joy that comes from taking care of Koi, abundance in business will naturally follow…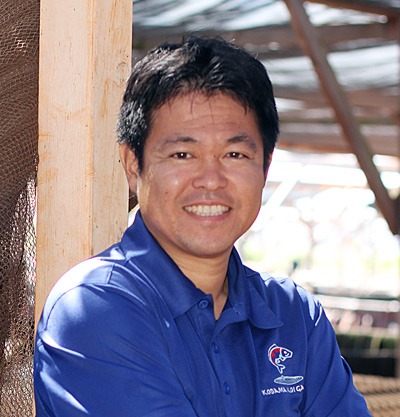 Taro Kodama
President of Kodama Koi Farm
Teaching Lessons and Family Secrets
Each team member learns the traditional values that come from generations of experience. Taro is honored to teach the lessons and family secrets his father imparted to him his entire life. He is proud of his work family and recognizes how they've helped them succeed through how they care for and manage the diet of thousands of koi using the Kodama family Koi Food, techniques and best practices. Learn more on our koi blog.
As a result they've experienced success as the largest Japanese Nishikigoi distributor in the United States. Service and support is a core value of Taro's, he's committed to providing access to high quality Koi and all needed to care for them. That's the true victory…helping others care for and enjoy the Nishikigoi they are raising.
"With the lessons and family secrets my father has taught me, we are proud to have the opportunity to bring magnificent Japanese Koi to the United States, Canada, and the rest of the World." – Taro Kodama
Strive To Be The Best
Our mission is to be the world's number one Japanese Koi company.
Represent Japanese Culture
We are dedicated to representing Japanese culture by implementing traditional values as we raise Nishikigoi and in how we conduct our business.
Promote Happiness
We promote happiness and pleasure to people worldwide.
Be Respectful & Have Fun!
Our motto – Be respectful. Be responsible. Have fun!
The Kodama Commitment to Quality
Taro Kodama, president of Kodama Koi Farm describes the 6 ways that their family's experience and traditional values deliver consistent results and special access to the highest quality Nishikigoi in the World. This commitment to quality koi is what sets us apart.
We are dedicated to koi health and use a strict quarantine system
My father always stressed the importance of koi health. After buying koi from only trusted breeders, our new koi arrivals would spend three weeks in quarantine under careful examination.
The quarantine of koi ends with a KHV (Koi Herpes Virus) testing. Just as we need to trust the home and care that our koi receives, you need to trust the quality of the koi you purchase. At Kodama Koi Farm, we put our best efforts to ensure our koi are safe and healthy before sale.
We only offer genuine Japanese Koi from Niigata
"Growing up in Japan, my father instilled in me the Kodama family commitment to only offering genuine Japanese Koi from their birthplace in Niigata. It honors the legacy and purity of these beautiful creatures.
I promised him that I'd remain true to our family tradition and never breed koi myself, but only import high quality Nishikigoi from top Japanese breeders.
As a Kodama, we proudly present our Japanese culture for these "Living Jewels" from the mecca of Japanese Koi."
We value our established relationships with the top Japanese breeders
"Over the years, my father, Koi Master Mamoru Kodama, and I have fostered many lasting relationships with top Japanese Koi breeders.
My father and I meet these old friends to handpick every single koi that enters Kodama Koi Farm.
It brings my father and I so much joy to go back home, speak in Japanese, and negotiate with old friends. Even after 50 years, it still amazes me how strong our relationships are with them and the incredible koi we have been honored to raise."
State of the art koi facilities in Hawaii
"When I decided to leave Japan to provide the US and Canada with top quality koi, I took with me our family secrets and turned them into Kodama Koi Farm. After my father and I hand select each gorgeous koi from Japan, they begin their vacation in Hawaii.
As one of nature's living and growing beauties, it is critical to have the right facility for raising beautiful and healthy koi. They live in mineral rich water like their birthplace in Japan because volcanic rock is perfect for healthy growth. Our 12-acre koi farm in Hawaii makes us one of the world's largest operations for Japanese Koi."
Experienced staff available for questions
"Similarly to how we handpick each koi, we also carefully select each member of our dedicated staff. The managers have spent time in Japan or a long time on Kodama Koi Farm learning about raising and nurturing koi. Not only have they cared for thousands of koi, but they also have maintained our 3 million gallon ponds.
In addition to that, our managers have monitored the strict quarantine process for KHV and maintained the diet of thousands of koi. You can rest assured that each question you have about pond and koi maintenance will be answered honestly from firsthand experience."
We pass on our generations of knowledge
"Since I was a little boy in Japan, my father ingrained in me that it is a privilege to raise and and sell the most beautiful high quality koi.
It has been an honor to apply the lessons he taught me every day over the past 50 years.
We are committed to educate our team with this same knowledge and tradition that my father passed on to me with the intention of sustaining the highest quality as we bring you the most beautiful koi."
Our Achievements
We are honored that the work we love has been recognized in the industry. It is our passion and purpose to carry on the tradition of enjoying and offering beauty to the world through these living symbols of peace.
50 + years of family experience helps us raise champions!
210 + award-winning koi in shows
5 grand champions at the All Japan Koi Show
1 of the largest koi farms in the world!
3,00,000 gallons of pond space
500,000 + Kodama raised koi
Industry Affiliations
We are proud to be members of many Japanese Nishikigoi organizations