Study Tategoi Koi
🚚 Special Shipping Rates On Study Tategoi!
Buy 1 - 4 Koi and Pay $89 For Shipping OR Buy 5 or More and Get Free Shipping!
Important Note: offer cannot be combined with any other koi!
Great Pricing and Selections
This year we will be showcasing Study Tategoi in 2 parts—Part 1 for March and Part 2 for April. For March, we're excited to share:
Over 2,000 individual koi
24 tosai varieties to choose from
10 excellent koi breeders
Prices currently range from $49–$120. All are at great prices and randomly selected. These koi will likely sell out fast; so select your favorites!
These koi are all pre-selected by Taro Kodama and are top-quality koi, so requesting to select individual koi is not an option.
🚚 Special Shipping Rates
Buy any Study Tategoi combination of:
1–4 koi to ship for only $89
5 or more koi to ship for FREE
Important: Available to ship after March 28th. Please give customer service 2 week in advance notice of your preferred shipping date. You can contact customer service at +1 (833) 546-5683 or info@kodamakoifarm.com
Study Tategoi part 2 of this promotion starts April 1st 
What is the "Study Tategoi" program?
There are many ways to study koi. A lot of videos and articles are available on the Internet. You can have knowledge on the koi variety, breeder, how they may develop, etc.; but you can never get the experience online.
In order to fully understand koi, nothing is better than raising them yourself in your own pond. Only by raising these koi in your pond, can you see the color, quality, and how they will grow and develop their beauty. As a hobbyist, you want to get this experience with minimal investment.
Study Tategoi program offers this experience at an affordable price. At Study Tategoi program, we select the breeder of a group of fine quality tategoi (future koi). By offering them randomly picked, Kodama Koi Farm can keep the cost low for you; and you get to enjoy a high-demand bloodline with confidence in quality.
Dive into the Study Tategoi Program for 2022!
We're excited to offer these tosai (koi less than 1-year old) from famous breeders for 2022. This is a great way to affordably access many different varieties of koi all in one spot. Normally full-grown koi sell for high prices, but with the Study Tategoi program (where koi are randomly selected for you) you can affordably get young koi and watch them grow and develop in your pond.
Study Tategoi Part 2 Is Live!
Take a look at part 2 of our study tategoi promotion! There are 26 more varieties of high quality study tategoi available for you to purchase from 16 new top breeders from Japan. Check out part 2 and see what is available!
Featured Koi Breeders Part 1
We're happy to share Taro Kodama's expertise below about these hard-working breeders. Enjoy!
Dainichi Koi Farm
In the Koi world, it is hard to find somebody who does not know the Dainichi name. It is synonym of champion quality Koi. As a matter of fact, he won the grand champion at 2020 All Japan Koi Show, the world's no. 1 Koi show.
Because of the quality and the highest demand for the limited supply, we feel very fortunate to be able to obtain Dainichi Tosai and share them with you.
Dainichi are always the first to get sold out. So please do not wait 'till the last minute.
Want to learn more about Dainichi Koi Farm? Click here to view our KOI TALK with Dainichi Koi Farm
Omosako Koi Farm
There is no question that Omosako Koi Farm is the very best breeder of the Shiro Utsuri variety.
Taking the highest quality as granted, the body of his Shiro Utsuri is very hard to compete with. No Shiro Utsuri from other breeders can have the quality and the size in one. This is why his Shiro Utsuri surpasses everybody else's and always wins at the All Japan Koi Show.
It is very appreciated that Mr. Omosako consistently helps us obtain his valuable tosai and makes them available for you, our clients.
Want to learn more about Omosako Koi Farm? Click here to view our KOI TALK with Omosako Koi Farm.
Isa Koi Farm
I must say that Isa Koi Farm and Dainichi are the two most popular breeders in Japan.
Isa's Showa has many features to enjoy, but my favorite quality is their strong bodies. Even males can build such powerful shapes, just like the Kokugyo prize winner.
Want to learn more about Isa Koi Farm? Click here to view our KOI TALK with Isa Koi Farm.
Otsuka Koi Farm
Mr. Yoshikazu Otsuka always have wide range of unique yet high quality varieties in stock such as Goshiki, Goshiki Sanke, Kage shiro Utsuri, Aka Matsuba, Shusui, Asagi etc..
Kage Shiro Utsuri among them is his specialty. In other words, no breeder in Japan breeds this unique variety. We are very fortunate to have them available for our study Tategoi program.
Kage Shiro Utsuri Available for Study Tategoi
Marudo Koi Farm
Being the chairman of All Japan Nishikoigoi Promotion Association, Mr. Hisashi Hirasawa leads breeders in Japan for a brighter future and higher quality Koi for people around the world.
Though he breeds many different varieties, his Kohaku and Sanke are especially popular. Recently he has won several grand champion titles with his Kohaku.
We are very happy to share his Kohaku tosai with you. Please experience and enjoy what his bloodline can do in your pond.
Kaneko Koi Farm
While Kaneko Koi Farm is famous for Kujyaku, Shiro Utsuri and more, he is also known as a developer of Tamasaba goldfish. As a part of his passion for goldfish, he wanted to breed goldfish that koi hobbyists can enjoy with Koi in Koi pond. That is how Tamasaba came to birth. 
Enjoy his high quality Tamasaba grow with your Koi in your Koi pond.
Tamasaba Gold Fish Available for Study Tategoi 
Kanno Koi Farm
Mr. Kazuhiro Hirasawa is one of the young leaders among breeders in Niigata. Goshiki from Kanno Koi Farm are definitely of top quality and highly demanded.
The amazing beauty of Kanno's Goshiki that won the mature champion over Gosanke at the recent All Japan Koi Show is still refreshing!
The tosai available for this study tategoi is from an outstanding female parent. She is 85cm (or 34 inches). She had never been shown at koi shows, but she would definitely have won Best in Variety at the All Japan Koi Show for sure.
Mr. Hirasawa says, "Her body and the high quality and bright beni are the reasons why I picked her for my breeding." We are very fortunate to obtain the first generation siblings of this All Japan class Goshiki. Let's share the dream with Kanno Koi Farm.
Want to learn more about Kanno Koi Farm? Click here to view our KOI TALK with Kanno Koi Farm.
Mature Champion at All Japan Koi Show 2020
Best in Size Prize at 50th All Japan Koi Show
Best in Size Prize at 36th All Japan Young Koi Show
Nogyosai Special Award Winner
Maruhiro Koi Farm
Being a brother of Marusei Koi Farm, it's no wonder that Mr. Hironori Hirasawa likes JUMBO. He loves any Koi that grows big.
When you go to his farm, you can feel his passion. His facility is always full of Koi, especially large ones regardless of the season.
If you want a Koi that is high quality and grows big, defnitely get his Koi.
Shinoda Koi Farm
When we talk about Shinoda Koi Farm, Hi Utsuri, Doitsu Showa and Ginrin Showa are the reason to visit.
 His Hi Utsuri is especially second to none. Just like Omosako Shiro Utsuri, no breeder can touch Shinoda's Hi Utsuri.  His Hi Utsuri is a regular winner of Best in Variety award at All Japan Koi Show. As a matter of fact, he won the title for the last 3 consecutive years.
We also raise his Tosai Hi Utsuri at our farm. This Koi was Tosai in 2018. She is now 24+ inches at our farm. Every Hi Utsuri in this program has the potential
His Ginrin Showa are descendants of the famous one that won grand champion at the 39th Nogyosai Koi show over Gosanke about 16 years ago. Before nor after that Koi, have I seen any other non-Gosanke beat other Gosanke for the title.
Want to learn more about Shinoda Koi Farm? Click here to view our KOI TALK with Shinoda Koi Farm.
Oya Koi Farm
Taro Kataoka is one of the leading breeders in Japan. His Sanke has won many top awards at All Japan Nishikigoi Show.
We are very happy to share his tosai with you. Please experience and enjoy what his bloodline can do in your pond.
Kataoka believes HI's impact will increase as the Asagi ages, and you will see more of the red color on its fins.  
All JAPAN KOI SHOW Botan prize 65 bu Asagi 3 years old 64.5cm
44th All Japan Koi Show Best in Size 65bu
Search All Our Available Koi
Showing the single result
Can't find the koi you're looking for? Click here to use our koi request form
Request the Koi of Your Dreams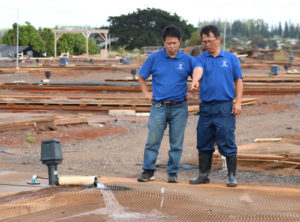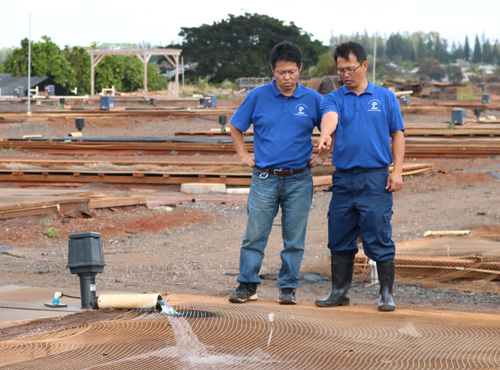 What can we help you find?
Let us know more about what you are searching for and we will look into our inventory to help you find the perfect koi. Tell us a description, variety, size range, and price range you are searching for.
We have a large stock of koi that are not listed on our website and we can also look when we are visiting Niigata, Japan. Complete this form and we will follow up with you directly.
Koi Request Form