Dainichi Koi Farm
Dainichi Koi Farm is probably one of the most known breeders in the world. Because of its quality and body, everybody would like to have at least one nice Koi from Dainichi. Futoshi Mano and Shigeru Mano successfully took over the legend of their father and founder, the late Mano, and work hard to produce higher quality Nishikigoi. Dainichi Koi Farm has produced many famous show winners, including grand champions at the All Japan Nishikigoi Show, the biggest show in the world.
Learn More About Dainichi Koi Farm
Owner(s): Futoshi Mano and Shigeru Mano
Specialty: Showa, Kohaku
Description: Dainichi Koi Farm is probably one of the most known breeders in the world. Because of its quality and body, everybody would like to have at least one nice Koi from Dainichi. Futoshi Mano and Shigeru Mano successfully took over the legend of their father and founder, the late Mano, and work hard to produce higher quality Nishikigoi. Dainichi Koi Farm has produced many famous show winners, including grand champions at the All Japan Nishikigoi Show, the biggest show in the world. They are one of the most well-established farms. Dainichi Koi Farm is world renown and recognized as the founders of Japanese nishikigoi. Koi lovers around the world know Dainichi Koi Farm as the maker of Showa champions such as "Sakura" and "Kokyugo." In this special auction, Kodama Koi Farm presents the 21 showa offspring of "GachaX," a well-known Dainichi Showa often bred with Sakura and her offspring. Dainichi Bloodlines - Japanese nishikigoi originated in the paddy fields of Dainichi Koi Farm in the mid 1900's. They were the first to produce a large and beautiful championship Gosanke. Many well known koi breeders used the Dainichi bloodlines to start their own koi production.
The History of Dainichi Koi Farm
Article from November/December 2000
Dainichi Koi Farm
Creators of Beautiful Nishikigoi
There is a Koi show called Nogyosai once a year (the end of October) in Niigata where all the breeders will enter their Koi. This is one of the three biggest Koi shows and very authoritative. It is Kin Kikokuryu of Mr. Seiki Igarashi that obtained the most attention at the Nogyosai 2000.
Dainichi Koi Farm
Introducing Japanese Nishikigoi breeders means introducing Japanese representative breeders. For me to do so, I must begin with "Dainichi Koi Farm" because it is Dainichi who actually established the origin of Japanese Nishikigoi.
Lineage of Dainichi Koi Farm 

The lineages the Dainichi brothers currently use all originated from the following three Nishikigoi.
Mr.Minoru Mano, their father, devoted his life establishing these lines: "Dainichi Kohaku," "Dainichi Sanke" and "Dainichi Showa." It is not too much to call them the "treasure" of the Nishikigoi industry.
It would be impossible for the brothers to produce more beautiful Nishikigoi, higher quality Nishikigoi no matter how hard them try. They are that excellent. I hope that they produce more of this quality and supply them around the world.
There is a lot of word involved in Nishikigoi breeding. More than you could expect. There are times when you have to work in overwhelming snow more than 1 meter (or 3.28 ft) in depth during winter season. You cannot sleep when you are hatching more than 8 million fries during the breeding season. You spend every single day until fall culling them till after releasing them to mud ponds In the meantime, you must take care of the bigger Koi, It is a series of hard work that all 9 staff members must work morning to night to complete. But all the Koi hobbyists, all the Dainichi fans look forward to their breeding Koi with "high quality" and "full of charm."
It falls upon you to give them good care when you obtain Dainichi Kohaku, Dainichi Sanke or Dainichi Showa because it will be the only Dainichi piece in the world. And also, please enter them in Koi shows. The late Mano dedicated his whole life to complete these lines. His sons inherited them and breed them carefully. Please share beauty of Dainichi pieces of Nishikigoi with many hobbyists.
Body Conformation Distinguishes Koi of Dainichi
When it reaches 70 to 80cm(28"to 32"), its body conformation is perfect. The body is symmetrical and beautiful. The beauty is the result of its lineage as well as the method of raising it.
Please note the Kohaku.
This picture of the Kohaku was taken when it was 3 years old. In other lineages, it is usual for a 3 year old Koi to have body conformation as in this picture. But in Dainichi Koi Farm, they do not feed 3 to 5 year old Koi at all from October to April. This way, they remove all the gained fat during summer. They intend to make their Nishikigoi skinny like this picture.(1)
By repeating such absolute fasting during winters of 2 to 5 years, Nishikigoi of Dainichi can complete a more prefect beautiful body conformation when it reaches more than 80cm(32"). But, Nishikigoi from other lineages would not get the skinny body of Dainichi eve if they fasted for 7 months. So we can think that this character of Nishikigoi losing all the fat during winter is another characteristic of Dainichi.
More than 80cm a Dainichi would coat at least 5 to 6 million yen ($50,000 to $60,000). Therefore, the secret of getting good Dainichi Koi is the get skinny, high quality 3 to 4 year old Nishikigoi.
The second characteristic is skin quality. Quality in the case of Kohaku means 'hi' quality and 'shiroji'(white background)quality. On Koi of Dainichi, 'shiroji' is especially characterized.
Comparing with the other lineages would explain the difference easily. The 'shiroji' is like the one of pottery. Also, Fukurin appears more.
Some may say that Fukurin can be found only in Ogon variety. But it is not true. Fukurin appears in Kohaku, Taisho Sanke and showa, too. For the beauty of Fukurin, Dainichi Koi is regarded as a top of Japanese Nishikigoi.
Fukurin is an Important Key Point to Tell Quality
Ogon will have very beautiful Fukurin when it becomes 80 to 85cm(32" to 34"). I think you know well about the Fukurin of Ogon. It is true that Fukurin came from Ogon. But this is not only for Ogon. We can find Fukurin in Kohaku, Sanke, and Showa variety, too.
Fukurin is difficult to tell on 2 to 3 year old Koi. It will not be clear enough until Nishikigoi grow as big as 790 to 80cm(28" to 32").More than 30 years ago, there were no Kohaku, Taisho Sanke, and Showa over 70cm; there were only the very large Asagi and Ogon. Then we noticed the beauty of Fukurin on these large varieties. This is how the word Fukurin came about. Because other varieties like Gosanke wore still small at that time, we could not see Fukurin on them. This is why there was some misunderstanding that "Fukurin' is the word only for Asagi and Ogon. But now when Gosanke can grow as big as more than 70cm, they can have beautiful Fukurin like this Taisho Sanke in the picture. Ofcourse, not all the Nishikigoi can necessarily have Fukurin, which is regarded as very high quality. Fukurin will appear on "hi" plate as well. But in this case, it appears beautiful especially the 'shiroji'. A characteristic of Dainichi Sanke is this beautiful appearance of Fukurin.
Taisho Sanke in picture B is only 4 year lid and 65cm(26")long. Her skin is outstanding. But the Fukurin has not appeared yet. In old days, this was the biggest size they could get. This is why Fukurin was considered only for Asagi and Ogon.
Secret of Buying Dainichi Kohaku for Value Price
When Dainichi Koi are 3 to 5 years old, the body conformation is very thin and looks very poor. As this Koi grows, it will get more flesh on its body and from the beautiful body.
I have purchased a 20 million Japanese Yen ($200,000) Nishikigoi at Dainichi Koi Farm. She was a 10 year old Kohaku 80cm (32")long. She was so beautiful and powerful. Dainichi Koi will become more beautiful and more powerful as it grows. It is natural that the price goes higher as it becomes more beautiful.
It is the charm of Koi hobby to buy high grade and quality Nishikigoi when it is still inexpensive. So, as far as Dainichi Koi is concerned, it is a good chance to buy when 3 to 5 year old Koi looks thin and poor. This is a little secret of buying good Dainichi Koi.
Though they are from the same lineage, and though they are even fro the same parents, not all of them will become as beautiful as their parents. At Dainichi, the hatch more than 8 million fries every saeason. But by fall, they only select 3,000 to 4,000 of the Tosai to keep. Moreover, they select about 1,000 tategoi to grow. What we see here are already-severely selected Koi. Out of these, Mr.Hiroshi Mano and I picked out this Kohaku.
Her skin is pure white. Since it is only 5 years old and 70cm long, of course we cannot see Fukurin yet.
Because its body conformation is still thin, its pattern looks long line. But once it gets good volume, it will turnout very distinguished and stable three-step pattern. Especially with the wide 'shiroji' on its shoulder, it will be impressionable.
The Process of Nishikigoi becoming Beautiful Gives a Great Impression!
When we see beautiful Nishikigoi, we feel very impressed. Each person's impression will very. About the showa in picture1, there may be many readers who think that his is not that beautiful. But I think this is natural. Though Nishikigoi is a kind of an art, there are many other beautiful artworks like pictures. And many of you have seen them. Compared with these artworks, this Showa is not that beautiful. However, Nishikigoi that were living 200 year ago were just Magoi (black carp.) It was a series of trial and error and repeated unlimited times of breeding and culling to achieve this Showa. They turned the color of living Magoi to pure white skin and developed red patterns on the white skin. In addition, they made truly deep black or 'sumi', totally different quality and color from that of we can understand this value more and will be more impressed with this living artwork.
I would like readers of KOI USA to see more Nishikigoi. I would kike you to experience the process of a not beautiful Nishikigoi changing to a beautiful one. This experience will bring you to a deeper, stronger and better impression when you come across a piece of Meiri(extremely distinguished Nishikigoi).
At Dainichi Koi Farm, form march to April, they spend every day in setting up the pipes to more than 100 ponds. Because the melting water is very good for Nishikigoi, this is very important work to do before the snow is melted. Breeders in Niigata do a lot of work, that we can never imagine, to produce beautiful Nishikigoi.
We have koi available to buy from Dainichi Koi Farm online if shown below the search field. If not, contact us with what you're looking for and we'll help find the right koi.
Search All Our Available Koi
Showing 1–16 of 41 results
Can't find the koi you're looking for? Click here to use our koi request form
Request the Koi of Your Dreams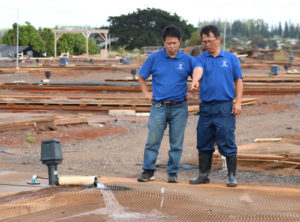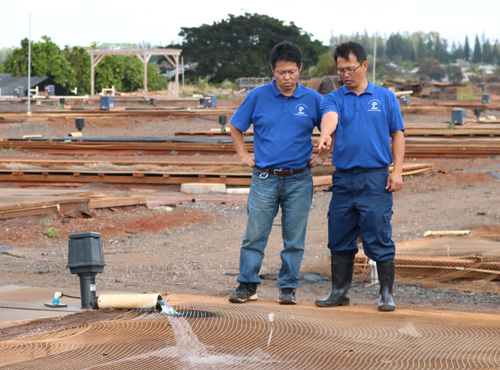 What can we help you find?
Let us know more about what you are searching for and we will look into our inventory to help you find the perfect koi. Tell us a description, variety, size range, and price range you are searching for.
We have a large stock of koi that are not listed on our website and we can also look when we are visiting Niigata, Japan. Complete this form and we will follow up with you directly.
Koi Request Form