Izumiya Koi Farm
Izumiya is one of the distinguished Koi breeders in Niigata.
Learn More About Izumiya Koi Farm
Owner(s): Ryu Mano
Founded: Around 1938
Specialty: Ogon, Koromo, Sanke, Kohaku
Description: Izumiya is one of the most experienced Koi farms with almost 100 years of history in Japan. As 4th generation of Izumiya; Ryu Mano is succeeding the legacy by producing winning show quality of Ogon, Sanke, Koromo and more. Izumiya Ogon, in particular, are second-to-known brand of koi.
Interview with Izumiya Koi Farm
Interview on March/April 2002
Izumiya Grand Champion
by Mamoru Kodama
Japan has more than 200 koi shows from small to big every year. Among them are three major Japanese Koi Shows: the All Japan Nishikigoi Show by Zen Nippon Airinkai (ZNA), All Japan Combined Nishikigoi Show by Shinkokai, and the All Japan Nishikigoi Promotion Association (Dealers Association). In the Niigata Nishikigoi Show, Niigata breeders can enter their koi.
This Niigata Nishikigoi Show is a very authoritative koi show. The Grand Champion winner of this koi show is allowed to attend a party sponsored by the Japanese Emperor. Because the results of this koi show grades breeders, it is a MUST for breeders to win good awards. At Niigata Koi Show on 28th of October in 2001, Mr. Sen'ichi Mano of Izumiya won the Grand Champion.
Izumiya is an established koi breeder; his father started the business 70 years ago. When you join a koi tour in Niigata, Izumiya is always one of the stops. Jumbo Koi 32? to 34? impress every single visitor. He breeds mainly Kohaku, Taisho Sanke, and Ogon. Considering bloodline as important, his pursuit is for quality jumbo koi. Winning Grand Champion at the show this past year made him realize once again that his koi are excellent and his koi grow jumbo. I interviewed Mr. Mano about the Grand Champion "Izumiya Kohaku" after the show.
Kodama:
Congratulations for the Grand Champion. I believe the beautiful and distinguished swimming posture of the Grand Champion impressed everyone. Please tell us about the koi in detail today.
Mano:
To tell the truth, I entered this koi last year also. The prior year, this Kohaku received the evaluation that it had the thickest beni among all the entries, but it did not have luster. This year, I raised this koi paying the most attention not only to growing her big but also to getting her very lustrous.
Kodama:
I agree. "Luster" is very important at koi shows.
Mano:
Yes. To win at koi shows, it must look beautiful. No matter how good the koi is, if it does not look beautiful, it cannot win. And it is luster that makes koi beautiful.
Kodama:
What do you do to get your koi luster?
Mano:
It still comes to food. Clay quality and water quality are important. But I think food is the most important. I believed that this Kohaku could definitely win Grand Champion. So pay the closest attention to food: what and how to feed.
Kodama:
What is the good food to get luster?
Mano:
Silkworm pupae are still the best. I mix silkworm pupae with other food. To koi hobbyists, I recommend such a koi food that already contains silkworm pupae as "Hi Silk 21™" because silkworm pupae are difficult to get.
Kodama:
What is the second most important thing to win Grand Champion?
Mano:
As a matter of course, koi must have the "innate ability." No matter how hard you try to get your koi lustrous and beautiful, if the koi does not have the ability to become lustrous by nature, it is a waste of time.
Kodama:
Please explain good innate ability that this Grand Champion has.
Mano:
They are "body conformation" and "the thickness of beni." As you can see, the body conformation is ideal for koi. In some bloodlines, koi grow more than 28? in 3 to 4 years. I think koi that grow slowly but surely every year are better than koi that grow rapidly and all at once. This koi is now 34? and 10 years old. It has grown steadily every year. It will still grow. I think it will grow to 36? in 2 years.
Kodama:
I know koi from Izumiya is famous for big growth, but 36? is surprising.
Mano:
Koi that grow rapidly do not last. Koi that grow slowly but steadily can grow as large as 36? and the result can have "good body conformation" when it is grown.
Kodama:
Is "good body conformation" from bloodline?
Mano:
Yes, it is from bloodline. Even if you feed a lot of good food to koi from the bloodline of little growth and the bloodline of bad body conformation, it will neither grow big nor have good body conformation.
Kodama:
Koi from Izumiya is famous for big growth and good body conformation, isn't it? Please explain about beni next.
Mano:
Beni quality of Izumiya is from the bloodline of "Tomoin" that I have taken over from my father. "Tomoin" is characterized by its thick beni quality. Tomoin bloodline was born around 1940 to 1945. My father has studied this bloodline and made what Izumiya Kohaku is now. In Niigata, there is a word "Gotari." It means a bully or naughty boy. When they are young, they are not generous and excellent. But when they grow up, they are crowned with success. It is often described that koi from Izumiya is like "Gotari."
Kodama:
It means that koi from Izumiya will turn out to be great koi when it grows up even if it does not look good when it is young. Winning Grand Champion this time really proved this, didn't it? I believe this will make koi from Izumiya more popular. Please breed many good quality koi for your fans. Thank you very much for your time today.
We have koi available to buy from Izumiya Koi Farm online if shown below the search field. If not, contact us with what you're looking for and we'll help find the right koi.
Search All Our Available Koi
Showing the single result
Can't find the koi you're looking for? Click here to use our koi request form
Request the Koi of Your Dreams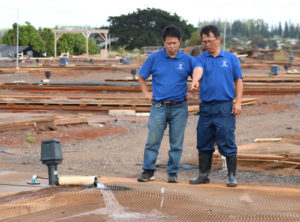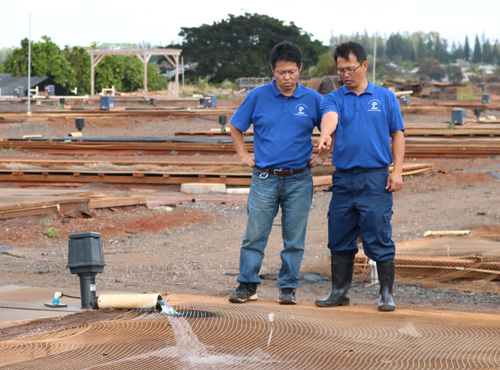 What can we help you find?
Let us know more about what you are searching for and we will look into our inventory to help you find the perfect koi. Tell us a description, variety, size range, and price range you are searching for.
We have a large stock of koi that are not listed on our website and we can also look when we are visiting Niigata, Japan. Complete this form and we will follow up with you directly.
Koi Request Form