Hoshikin Koi Farm
Speaking of Kohaku, here comes Hoshikin Koi Farm. Speaking of Hoshikin Koi Farm, here comes Kohaku.
Owner(s): Katsuyuki Hoshino
Specialty: Kohaku and Showa
Description: Whether you already have Kohaku or not, Hoshikin Kohaku is a must-get Koi. His Kohaku are regular winners at Koi shows. The thick beni (red) on the beautiful body is beyond description.
We have koi available to buy from Hoshikin Koi Farm online if shown below the search field. If not, contact us with what you're looking for and we'll help find the right koi.
Interview with Hoshikin Koi Farm
Interview on September/October 2001
Hoshikin Koi Farm -Hoshikin Kohaku
Most Koi hobbyists know that "Dainichi" Kohaku from Niigata are a famous and recognized type of Koi. While not as well known the Hoshikin Kohaku is considered by many to be on a par. 
2 years ago, at the 31st All Japan Combined Nishikigoi Show, Dr. Gene Ewy (certified AKCA and ZNA judge) won the honorable Kokugyo (Best in Size) prize with a four-step Kohaku. . That Kohaku was a Hoshikin Kohaku.
It looks easy to breed Koi. Simply getting and mating a pair from Niigata will produce Koi. It may be true. But it is not actually that simple to breed beautiful Nishikigoi. You may be able to breed beautiful Koi at that moment by using beautiful parents. But it does not mean that they can still be beautiful in future. It is very critical for breeders to have a clear vision of how they want their Koi to look like in 5 years and 10 years.
Hoshikin Kohaku won 6 grand champions at Koi shows of the last fall only. These great achievements make Japanese Koi hobbyists recognize Hoshikin Kohaku as equal brand to Dainichi Kohaku.
Hoshikin Kohaku today is the result of the clear vision of Mr. Kinsaku Hoshino, the founder. Fifty years ago, he believed that Kohaku must have 1) true red, 2) good Hi pattern and 3) no Shimi (small black dots). Setting these as major goals, he obtained 2 pairs of Kohaku parents of the "Tomoin" line and has been perfecting the line. Because of this, he can now produce beautiful artworks that everybody admires. Over 200 breeders sin Niigata has their own clear idea of what their Koi should be like in 10 years and risk their lives to achieve these goals, including Kinsaku Hoshino.
Now let me explain in more details about Hoshikin Kohaku.
Hoshikin Koi Farm used to be called Shiotani Koi Farm because it is located in the area called Shiotani; because his name was HOSHIno, KINsaku, everybody called him Mr. "Hoshikin." As a result, his Koi were called Hoshikin Kohaku and finally became a recognized bloodline.
About 50 years ago, there was Kohaku called "Tomoin" in Takezawa, Niigata. The bloodline of Tomoin dominated the market for the time because its Hi was truly blood red. Mr. Kiyoshi Miyazaki spent a large sum of money to get a pair of this Tomoin Kohaku. From his breeding, he produced two outstanding pairs of Kohaku.
In 1967, Mr. Kinsaku Hoshino spent as large money as the annual gross sale to get the two pairs from Mr. Miyazaki. They were almost 70cm long (28 in") and considered very big at that time. With the four parents, there were four possible pairs. He decided upon one pair out of the four. That pair is what is called "Sanganmatsu," is the origin of Hoshikin Kohaku.
Descendants of this bloodline won grand champions two times at Nogyosai; Niigata Koi Show, All Japan Young Nishikigoi show, and more. Hoshikin Kohaku is now a representative bloodline of Kohaku.
Niigata breeds excellent quality Koi because all the 200 breeders have had clear visions of what kind of Koi they want to breed and improved their Koi to meet their goals just like Mr. Hoshino has done.
The goals of Hoshikin now are to create 1) strong Koi resistant to disease, 2) Koi that grows large and 3) Koi that holds their beauty at hobbyists' ponds.
Pursuing for these goals, he breeds 3 million fry with 10 pairs of Kohaku every year. He releases them into 2.5 acres mud ponds and culls them three times from July to October, choosing 15000 fry. From these, he keeps only 1000 Koi to raise to 2 years old and sell the rest . In other words, only 14000 Hoshikin Kohaku are available in a year. It is a very limited brand. Japan has many fans of the Hoshikin Kohaku. , especially high-end how oriented hobbyists.
Because they are very limited and popular, you may want to reserve them up front.
Interview with Hoshikin Koi Farm
Hello, I am Hoshino from Hoshikin Koi Farm. We mainly produce Kohaku and Showa Sanke. We strive to breed koi that last long, look beautiful, and grow big, so we would love to see you at Hoshikin Koi Farm to show you our koi. Thank you.
Search All Our Available Koi
Showing all 2 results
Can't find the koi you're looking for? Click here to use our koi request form
Request the Koi of Your Dreams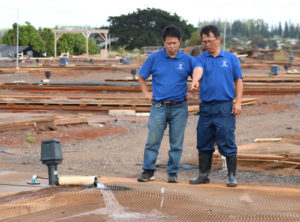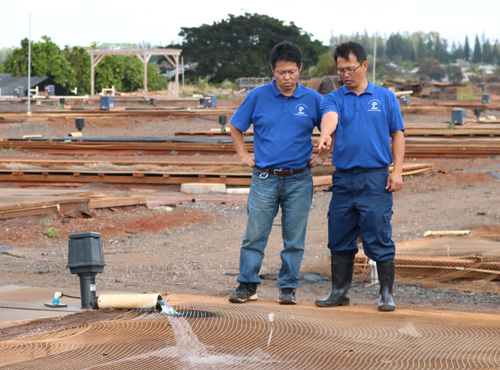 What can we help you find?
Let us know more about what you are searching for and we will look into our inventory to help you find the perfect koi. Tell us a description, variety, size range, and price range you are searching for.
We have a large stock of koi that are not listed on our website and we can also look when we are visiting Niigata, Japan. Complete this form and we will follow up with you directly.
Koi Request Form