Sakazume Koi Farm
Since the company was founded in 1932, they have produced Nishikigoi for more than 70 years.
Learn More About Sakazume Koi Farm
aka (nickname): Sakube
Owner(s): Shinsaku Sakazumi
Founded: 1932
Specialty: Koromo
Sakazume Koi Farm Mr. Shinsaku Sakazume of Sakazume Koi Farm is an established breeder in Oguriyama, Ojiya-city. He breeds Kohaku, Sanke, Showa, Goshiki and Aigoromo. Above all, Aigoromo is very popular to Koi hobbyists in recent years. Because not only is its pattern good, but also Ai (indigo blue) is beautiful, Aigoromo of Sakazume win more at Koi shows.
Interview with Sakazume Koi Farm
Article from May/June 2006
Sakazume Koi Farm
I believe that koi breeders are "artists" with "koi-breeding techniques."- Sakazume
"The Sakazume Koi Farm is popular for its Aigoromo"
The Aigoromo of the Sakazume Koi Farm is a well-established name inside and outside of Japan. Today, I interviewed Mr. Sakazume who breeds such beautiful Aigoromo.
Kodama:
Your Aigoromo is famous for its excellent quality. Because they win top awards at the All Japan Nishikigoi Show, they are popular. Please begin with your Aigoromo.
Sakazume: 
In 1990, I first saw the koi in picture 1 at the ZNA All Japan Nishikigoi Show. Although the pattern is not first class, the shiroji of the back was snow white. And the ai (indigo color) of the sashi was so attractive. Also, the ai on the hi plates sits outstandingly. Intuition told me that this was not the koi that competes its beauty, but the koi that acts as a parent. At the time, I was focusing on Kohaku. But I felt that this koi had superior quality as a parent and asked its owner to sell the koi. Fortunately, the owner kindly accepted my offer. I was able to use her in the following year, 1991. From this parent came the koi in picture 2 and all the other prizewinners.
Kodama:
You are also famous as a Kohaku breeder, but do you breed only Koromo now?
Sakazume:
Not necessarily. In fact, I am a breeder who has the established brand of "Sakube Kohaku."Because I have excellent parents, I breed Kohaku. I also breed Sanke, Kujaku, and so forth.
Kodama:
I see. Aigoromo is one of the varieties you breed.
Sakazume:
Yes. I have the right pairs of Aigoromo, and my Aigoromo are popular right now, but my real speciality is Kohaku.
Kodama:
Did you start the business? I believe your father started it.
Sakazume:
Yes. My father is Sakutaro Sakazume, and I am Shinsaku Sakazume. When I was little, we had a lot of koi at home and I watched them every day. I was not really into koi at the time, but I had a feeling that I would probably be a koi breeder when I grew up. So naturally I became a breeder.
Kodama:
When did your father start the business?
Sakazume:
In 1964 my father started it, and I inherited it.
Kodama:
Please share with us your techniques and thoughts on koi.
Sakazume:
I became a koi breeder not because I liked it, but because my father was doing it. So I had to start with "techniques of koi breeding." My ideas and attitudes to koi are all based on that of my father.
Kodama:
I see.
Sakazume:
My father and I went out to see the ponds as soon as the morning dawned. In koi breeding, we check ponds and koi condition the first thing in the morning. I learned this to be most important from my father. I also experienced that if we take care of them well, good results always come along. I still continue the pond check at sunrise. Koi breeding is part of nature. We must keep pace with nature to work.
Kodama:
I understand. Koi breeding is the same as growing rice and vegetables.
Sakazume:
It is surely the same. But the biggest difference is that the government buys all the rice you make, but not koi. If the koi are not beautiful, neither dealers nor hobbyists buy them. So breeding beautiful koi is critical.
Kodama:
I agree. Beautiful koi is important.
Sakazume:
I must breed "beautiful koi." I must keep that in mind at all times. Koi is never something you can easily sell, so you must work hard and raise them well.
Kodama:
Give us some examples.
Sakazume:
As I said, I found my Aigoromo at the All Japan Nishikigoi Show.
Kodama:
You mean the one in picture 1?
Sakazume:
Yes. My intuition was correct. When I used it as a parent, I got very nice outcomes. They have been winning many awards. Like this, I have to discover and create the business. I cannot just sit and wait for the chance to come around. I must chase after the chance. I always brush up my skills as a breeder and with the skill, I make the chance come true.
Kodama:
I understand.
Sakazume:
Each farm has its own way to breed koi. But the repetition of it is not good. We always have to try to create new things. Pulling fry out of the mud ponds
Kodama:
To you, what is koi breeding? What do you think is fun or attractive in koi breeding?
Sakazume:
When you start a koi business, everybody gets captured with the fascination of koi. There is a risk, because nobody would buy them if they are not beautiful. This is not rice. But you would still be fascinated because koi reflects your sensitivity. And people will evaluate each one of the koi. I think this is an attractive part of koi breeding.
Kodama:
Interesting.
Sakazume:
I myself am the second generation of koi breeder and a successor of "Sakube Kohaku." But my Aigoromo is the fruit of my sensitivity. If it were not for me, this Aigoromo would never be born.
Kodama:
I agree.
Sakazume:
After all, the fact that my sensitivity directly connects to koi is fascinating to me. And hobbyists all over the world can enjoy the beauty. This acknowledgement drives my motivation.
Kodama:
Aigoromo of Sakazume is now a worldwide brand. This is the outcome of your ability.
Sakazume:
I believe that koi breeders are "artists" with "koi-breeding techniques."
Kodama:
Mass production and shipment of koi is merely the job of koi producing technicians, not artists.
Sakazume:
Koi is what we forever pursue for beauty through improvements. It is not as simple as you buy parents and breed koi.
Kodama:
I agree.
Sakazume:
Koi from Niigata is the "art." I would like everybody in the world to know it.
Kodama:
What is your ideal Aigoromo? Do you consider it reaches the highest level now?
Sakazume:
No, I do not think so. It is true that koi from my farm became beautiful and have won many awards. But I still need to improve the variety. I may be one of the best Aigoromo breeders now. But there is no guarantee that I can stay good in 5 or 10 years. More beautiful Aigoromo could come out, and nobody might pay attention to my koi. So "continuous improvement" is my lifetime theme.
Kodama:
Concretely speaking, what is the "beauty of Aigoromo" that you set as a goal?
Sakazume:
Please look at the koi in picture 3. This is not what I bred. This koi has a very beautiful ai (indigo color) on the pure white skin. The color on every single scale of the hi plate is not black but indigo. The sashi has great indigo. This color is my goal. I can say this koi is my ideal.
Kodama:
Now tell us about your operation. What varieties do you breed?
Sakazume:
Mainly Kohaku. I also breed Sanke, Kujaku, Heisei Nishiki, and Goshiki. Aigoromo is one of them.
Kodama:
How about the volume?
Sakazume:
I have about 6 acres. And I have about 50 ponds for babies of these different varieties. I harvest about 50,000 in autumn.
Kodama:
You breed a lot, don't you! What is the percentage of Aigoromo?
Sakazume:
20%. I harvest 10,000 Aigoromo.
Kodama:
How many people do you have to operate the farm?
Sakazume:
Three in total. Myself, my wife, and one more.
Kodama:
It must be a lot of work to manage 50 ponds with only three people.
Sakazume:
True. But koi are exported worldwide. Whenever working, I always dream that a koi fan in every area of the world is pleased with that koi from Sakazume that is beautiful. Then, I do not feel any fatigue; rather I get encouraged.
Kodama:
Nobody but you can make Sakazume koi. Please take care of yourself and keep providing us with your beautiful koi. Thank you much for your time today.
Tips for Purchasing Aigoromo from Sakazume
Points for Purchasing Aigoromo from Sakazume
When buying two-year-old, care for only the pattern. There may be some dirty sumi on the hi pattern. But please do not worry.
As koi grows, the sumi on the hi plate will gradually get organized and turn to the beauty, which is unique to Aigoromo.
Like Goshiki, it takes more than five years for Aigoromo to complete its beauty.
When you buy a koi more than three years old, I recommend a female. Female koi from Sakazume get snow white skin. So females will look outstanding with the skin.
We have koi available to buy from Sakazume Koi Farm online if shown below the search field. If not, contact us with what you're looking for and we'll help find the right koi.
Search All Our Available Koi
Showing all 16 results
Can't find the koi you're looking for? Click here to use our koi request form
Request the Koi of Your Dreams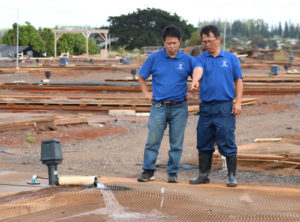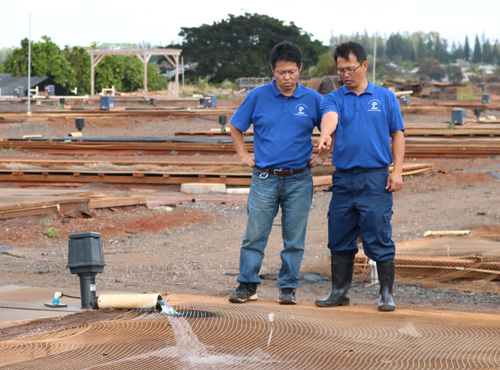 What can we help you find?
Let us know more about what you are searching for and we will look into our inventory to help you find the perfect koi. Tell us a description, variety, size range, and price range you are searching for.
We have a large stock of koi that are not listed on our website and we can also look when we are visiting Niigata, Japan. Complete this form and we will follow up with you directly.
Koi Request Form