Marusaka Koi Farm
This 70+ year Koi farm started 3 generations ago. Teruchiyo Hiroi, his grandfather, founded the farm. Teruo, his father, built the foundation. Teruyuki, the current owner, is taking this established farm to the next level. One of the highlights of Marusaka Koi Farm is the choices. You would find so many different varieties.
Learn More About Marusaka Koi Farm
Owner(s): Teruyuki Hiroi
Specialty: all kinds of metalic varieties (Kin Kikokuryu, Doitsu Kujyaku, Kikokuryu, Lemon Hariwake) Doitsu Kohaku, Doitsu Sanke, Sanke, Kujyaku, Midorigoi, ginrin chagoi and more
Description: This 70+ year Koi farm started 3 generations ago around 1948. Teruchiyo Hiroi, his grandfather, founded the farm. Teruo, his father, built the foundation. Teruyuki, the current owner, is taking this established farm to the next level. One of the highlights of Marusaka Koi Farm is the choices. You would find so many different varieties. You will find at least one you love. It has been 53 years since his father, Teruchiyo, started breeding Koi. They have improved Jinbei line to stabilized Marusaka Sanke. Marusaka Sanke won top prizes such as Young and Mature champions at All Japan Nishikigoi Shows. Marusaka Sanke is quite an established bloodline. Besides Sanke, they are now breeding most of the varieties like Kin Ki Utsuri, Kujyaku, Ginrin Hariwake, Showa and etc.
Interview with Marusaka Koi Farm
Article from Mar/Apr 2006
Marusaka Koi Farm
Niigata is a special place for koi hobbyists around the world. Likewise, the Utogi area is a special place for koi dealers because several excellent breeders such as Marusaka and Hiroi reside there. This time, I visited an established breeder, Marusaka Koi Farm, with the history of three generations.
Kodama:

Everybody knows that the Marusaka Koi Farm is an established breeder, but how did it start?
Marusaka:
My father started it as a breeder. I helped my father since childhood and before I noticed it I was involved in the business.
Kodama:
How long have you been working with koi?
Marusaka:
I am 54 years old this year. So I think I spent more than 40 years with koi.
Kodama:
I understand you have devoted your life to koi. Did you learn the business all from your father?

Marusaka:
Not necessarily. As soon as I graduated from high school, I apprenticed myself to Mr. Ichiro Mano, owner of the famous Izumiya in Niigata and studied koi.
Kodama:
What was the difference between Mr. Mano and your father in terms of learning.
Marusaka:
I learned how to raise koi through the daily work from my father. And I learned a lot about how to look at potential koi from Mr. Mano. My father was a pure breeder. He paired koi, hatched eggs, and raised them for 2 years, 3 years, and 4 years to sell. Mr. Mano was famous as a top eye holder of koi at the time. He was buying tategoi, that is, future potential koi from other breeders and raising them big to sell. The eye for tategoi was an important skill of his. The basic business model was different between the two.
Kodama:
I see. You learned different aspects of koi business from two teachers. When did you become independent?
Marusaka:
When I got married on my 31st birthday. Compared to other breeders around, I took over the operation of Marusaka Koi Farm from my father relatively early. He left the entire operation to me. I decided and did everything myself including which pair to use, and which fry to raise, and sell.
Kodama:
What do you think about the fact that your father left the responsibility to you so early?

Marusaka:
I think it was good. The earlier, the better. Of course, it would have been less risk for the business had my father, the experienced breeder, did this. But you learn and grow when you make mistakes. So I think one should take over the business as early as possible.
Kodama:
Do you have any remembrance of a big mistake?
Marusaka:
Countless. One time, I put formalin into a pond that contained salt. I lost the stock of 10,000 tosai. It was a difficult and tough time.
Kodama:
I think it was common sense for breeders not to use salt and formalin together. But the accident happened because you did not know.
Marusaka:
It was an expensive lesson. Because there is no school dealing with koi, I had to learn koi breeding by experience, inspite of mistakes. Of course, there are seniors, friends and a fresh water research station in Niigata prefecture from whom I can learn. But these friends and seniors are all in the same business, in other words, competitors. So they do not share much. The know-how is always secret. I have to learn all about koi breeding by myself.
Kodama:
Interesting. I see breeders treat and help each other like friends. But they all have secrets of the farm.
Marusaka:
There are many breeders in Niigata. But I believe there is a big gap in their breeding skills.
Kodama:
Now please tell us about your koi. Let's begin with your Kin Ki Utsuri because it is famous. How did you start this variety?
Marusaka:
It was about 1980 when I started breeding Kin Ki Utsuri. At the time, Kin Ki Utsuri were decedents from Doitsu Kin Showa. I used one of them as a parent, which is my first parent of Kin Ki Utsuri. My current parent is its child. It is now 13 years old and more than 75 cm (30in). It breeds as many as 600,000 eggs.
Kodama:
It was more than 25 years ago, wasn't it?

Marusaka:
Yes. The history of my Kin Ki Utsuri is long.
Kodama:
What is the ratio of Kuroko?
Marusaka:
I start culling the fry at 3 days old. I usually have 40% of Kuroko.
Kodama:
That sounds good. I know it is usually about 20 to 30%; 40% is a great number.
Marusaka:
By autumn, I raise 8,000 to 10,000 tosai out of the 600,000 fry. I raise 1,000 to two years old and I sell and export the rest. My Kin Ki Utsuri is known to develop the sumi well. Moreover, there are red type and Ogon type of Kin Ki Utsuri. Marusaka Kin Ki Utsuri is an Ogon type though I can have both types of excellent quality.
Kodama:
So it is good to remember that Marusaka Kin Ki Utsuri develops the sumi pattern well and it is an Ogon type of Kin Ki Utsuri.
Marusaka:
Yes. Mine are popular because they show good sumi on their shoulders.
Kodama:
Now tell us about your Kujyaku.

Marusaka:
I started breeding Kujyaku in 1990. There was a famous Kujyaku breeder by the name of Mr. Obuchi in the area of Ohkuzure. I purchased a female from him. I crossed her with a male from the Kaneko Koi Farm in Nigorisawa. This is how my Kujyaku started. My current parents of Kujyaku are the second generation.
Kodama:
How would you describe your Kujyaku?
Marusaka:
My Kujyaku has a good ground (skin color). Matsuba gets black and makes the ground shine strong in silver. The pattern is in beautiful Yamabuki color. My Kujyaku shows a very elegant presence.
Kodama:
Your Kujyaku is popular because they have won many top awards at koi shows. I like the beautiful silver ground of your koi.
Marusaka:
Thank you. I think people like it because the pattern is defined on that ground.
Kodama:
Now, please share with us a new variety of Midorigoi that you stabilized.
Marusaka:
As you know, Midorigoi originated when Mr. Tadao Yoshioka in Toyama crossed Shusui with a Yamabuki Ogon in 1963. Because it has Shusui blood, Midorigoi has always been Doitsu. But my Midorigoi is scaled.
Kodama:
Yes, there were no scaled Midorigoi. We can say you stabilized it as a new variety.

Marusaka:
It is difficult to create a new variety. But I feel honored that I was able to create something new that had not existed. Koi originally came from black carp. This black body developed to green. I think this is an amazing improvement.
Kodama:
How many do you breed?
Marusaka:
One pair breeds 100,000 to 200,000 fry. I keep 8,000 of them. After all, we need to select them very strictly, or we cannot get excellent ones.
Kodama:
Midorigoi has no pattern. How do you cull them?
Marusaka:
By color. The point is to choose as strong a green as possible.
Kodama:
I see. How many times do you cull them?
Marusaka:
Three times.
Kodama:
It is the same as Kohaku and Sanke culling, isn't it?
Marusaka:
Indeed. I rather think we should have more culling on those plain koi than the patterned ones. The more you cull, the better the result.
Kodama:
I think it is more fun to cull those patterned koi like Kohaku. What do you think?
Marusaka:
I agree. Culling Midorigoi is not as fun as Gosanke (Kohaku, Taisho Sanke, and Showa). But it is an indescribable pleasure for breeders to breed something nobody has ever bred. While I cull them, I think that somebody may start another new variety with my scaled Midorigoi.
Kodama:
Green had been a mysterious color for koi. And it is wonderful that you stabilized this color. I would like to show my full respect and look forward to seeing many more beautiful koi from your farm. Thank you for your time today.
We have koi available to buy from Marusaka Koi Farm online if shown below the search field. If not, contact us with what you're looking for and we'll help find the right koi.
Search All Our Available Koi
Showing 1–16 of 17 results
Can't find the koi you're looking for? Click here to use our koi request form
Request the Koi of Your Dreams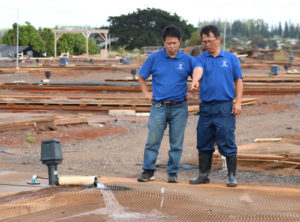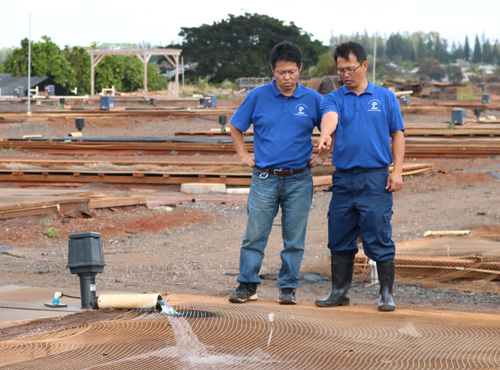 What can we help you find?
Let us know more about what you are searching for and we will look into our inventory to help you find the perfect koi. Tell us a description, variety, size range, and price range you are searching for.
We have a large stock of koi that are not listed on our website and we can also look when we are visiting Niigata, Japan. Complete this form and we will follow up with you directly.
Koi Request Form